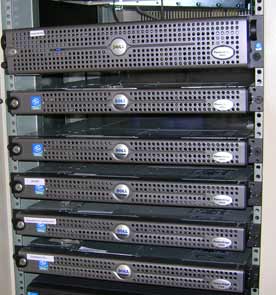 The Network for Web Hosting in Columbus
Our network infrastructure has been constructed to position us as the premier solution provider for reliable, high-speed Internet connectivity with extremely high availability. Fast, continuous, un-congested packet flow is the primary focus of our hosting business unit.
We have invested heavily in our network operations center providing top notch fiber connections with redundancy. We have multiple connections on multiple rings that terminate in different locations. When utilizing our co-location services, your equipment will have battery and generator power failure protection 24 hours a day, 7 days a week. Our staff is available 24/7/365 to make sure that your server is up and running.
We use Cisco switches & routers, Dell servers, and Liebert UPS power backup.
Network Management
We provide full network management and support for all of our clients. We have the experience and knowledge necessary to help stop hacking attempts and to ensure that you have the best possible connection available on the Internet today. Our network is continuously monitored both internally and from external sources so that we know of issues and can begin working on them before they effect your service.
Server Management
Our customer support engineers have the knowledge and experience to help you work through any problems with customization, configuration, and security all while maintaining a personable relationship and openness that is rarely found in this industry today. Our support center is available live via the phone (not just by email or IM) 24/7/365.
Network Power Backup & Generators
We have redundant Liebert UPS battery backup units for all of our servers. We are also located less than 1/4 mile from our local utility power headquarters (we know they want and need to make sure they have power at all times for their headquarters) and receive power from multiple sources. Our on-site generators take seconds to kick on and provide several times the necessary power to run our facility.
Worthington Hosting Data Center, Worthington Web Hosting, Worthington Colocation Hosting, Worthington Server Colocation Hosting
Powell Web Hosting Data Center, Powell Web Hosting, Powell Colocation Hosting, Powell Server Colocation Hosting
Central Ohio CoLocation Hosting & Central Ohio Dedicated Hosting
Central Ohio Hosting Data Center & Central Ohio Dedicated Server Hosting Data Center
Dell Server Hosting Data Center, Dell Hosting Colocation, Dedicated Hosting with Dell Servers, Dell Server Hosting